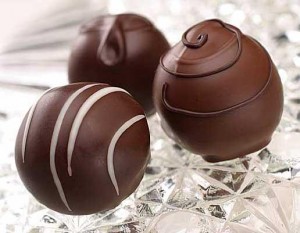 Chocolate lovers have another reason to indulge. A new study shows that consuming chocolate on a regular basis may decrease stroke risk by 20%. 
New data reported in the Journal of the American College of Cardiology found an inverse association between chocolate consumption and total stroke and a trend in the reduction of both hemorrhagic and ischemic stroke. 
The study included 33,372 women enrolled in the Swedish Mammography Cohort. Using a validated food-frequency questionnaire, the researchers evaluated the relationship between chocolate consumption and the risk of stroke. 
The investigators found that women who reported the highest amount of chocolate consumption (equivalent to about 2 chocolate bars a week) had a 20% reduced risk of stroke. 
Chocolate consumption has previously been shown to reduce systolic and diastolic blood pressure in short-term clinical trials, and has been demonstrated to improve the function of blood vessels.  Moreover, flavonoids in chocolate possess strong antioxidant activity and can suppress oxidation of bad cholesterol (LDL). 
However, not all chocolate bars are the same.  Milk-chocolate bars that are high in sugar, fat and calories might be bad to the health and should be consumed in moderation.  Readers are advised to take the dark chocolate bars that are low in sugar and have higher flavonoid content. 
To be healthy, one should also exercise regularly and consume a heart-healthy diet that is rich in fruits and vegetables and low in fats. 
Source: Journal ofAmericanCollegeof Cardiology 2011 
Please visit us at healthreason.com for more health related articles